So you've made the decision to elope – well done legend! It's going to be bloody awesome. But eloping doesn't mean you have to skim on an epic location.

The location adds to the vibe. I don't think it's the most important thing. But it bloody helps to add some spice. And the where can become even more important when it's just the two of you or only a very small guest list.

What do I mean by epic? Epic is something for you. It shows you. It's the backdrop of your life. Mad movie buff? Head to a vintage cinema like Palace Westgarth. Or it could be at the bar that you and yours first hooked up at. Love rock climbing or hiking? Pack your bags and get climbin'.

When you look back on your big day, the backdrop will create a real statement about the art of you.

Pick a place that reflects you and what you are about as individuals and a couple. Eloping is on your terms. So go somewhere that makes you happy and is what you love to do. Plus you can be so much more reckless choosing an elopement location when you don't have to worry about the logistics of what feels like a zillion wedding guests having to get there too.

Victoria is pumping with so many awesome spots to celebrate your union. Whether you are going for mad landscapes, the wild, the unique or classic urban, there are heaps of options. Here are some of my top picks. Go forth and be inspired.
1. Melbourne Elopement
Oh Melbourne, how I love thee. What a cool city to elope in. From rooftop bars and famous laneways, sweet city parks, the Yarra and so many awesome restaurants and bars to choose from, you are seriously spoiled for choice in the CBD. Or widen your radius a bit further and take your pick from a pier at sunset in St Kilda, a wacky adventure at Luna Park, or choose one of the many eclectic bars or fine dining spots in Collingwood, Fitzroy and Richmond. Some of my favs: Gum in Collingwood, The Everleigh in Fitzroy, The Brunswick Mess Hall, The Espy in St Kilda, Panama Dining Room in Fitzroy and Rupert on Rupert in Collingwood.
2. Dandenong Ranges Elopement
If garden settings with jaw dropping panoramic views are your jam, the Dandenong Ranges might just be the perfect place for you to seal the nuptial deal. It's less than an hour east outta Melbourne but it feels like you have been transported to another world.

There are heaps of elopement locations – the possibilities are endless and it doesn't matter what season you choose, your photos are going to be banging. Definitely the only place I know of where you can choose your garden "feel" – rustic, manicured, bush or botanical, it's all on the menu here.

One of my absolute fav spots is RJ Hamer Arboretum in Olinda. Rockin' forest setting with a cool view of Melbourne which truly delivers the goods come golden hour.

Other standouts are the Alfred Nicholas Gardens complete with waterfalls, a lake and boat house, and SkyHigh Mount Dandenong for its killer views and "top of the world" feels. And a hedge maze for some newlywed shits and giggles. Olinda Falls is a quiet native bush area for something different. There are also some very sweet airbnb properties in the area that would make for a great elopement setting.
3. Grampians Elopement
Another top spot for rugged mountains, natural beauty and stunning views is the Grampians. It's about three hours out of Melbourne and the perfect location for a small elopement.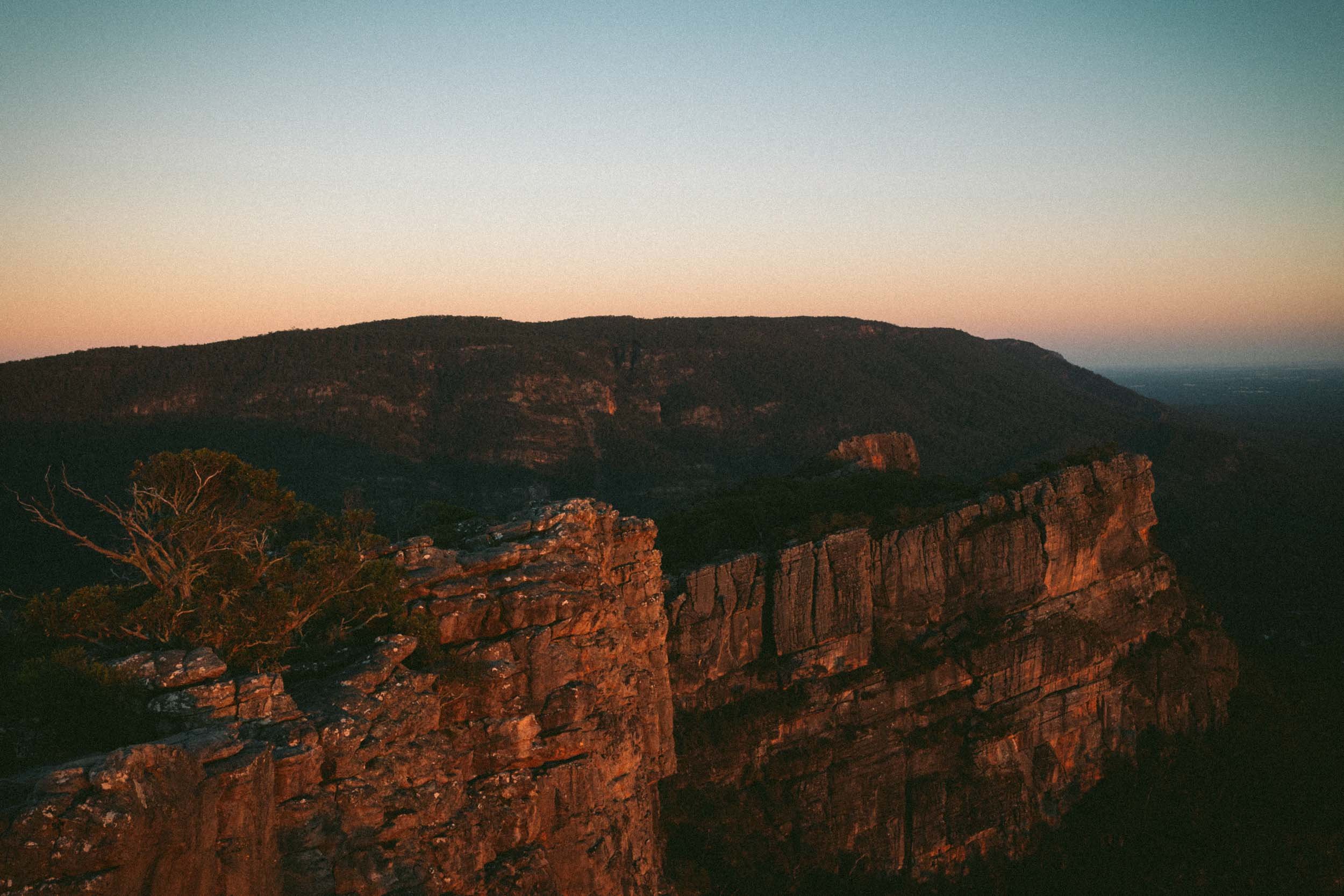 There are some seriously incredible walks for both those who like to stroll and those who love a hardcore hike, plus there's waterfalls and cliff faces with views that will knock your socks off. Two spots you can't go past for photos are Reed Lookout and The Balconies. Backdrops of epic proportions.
4. Mornington Peninsula Elopement
If you love the beach and are dreaming of a coastal union, look no further than the Mornington Peninsula. There truly is something for everyone. It's the perfect blend of chilled and upmarket, with epic beaches, incredible farm properties and wineries nestled in the hills. Plus you've got your pick of surf beaches or the relaxed foreshore depending on your vibe.

My recommendation is to hire an epic property on Riparide or Airbnb, hold your ceremony at one of my favourite spots – Cairns Bay in Flinders, Flinders Blowhole or Bridgewater Bay in Blairgowrie – and get photos at both locations. Some houses I'm crushing on are Flinders Nuthouse, Olive Shed and Bohemia Beach House.

And if you want to go down the more traditional venue and accommodation road, you can't go past The Epicurean, Jackalope, Polperro and Portsea Hotel.
5. Gippsland Elopement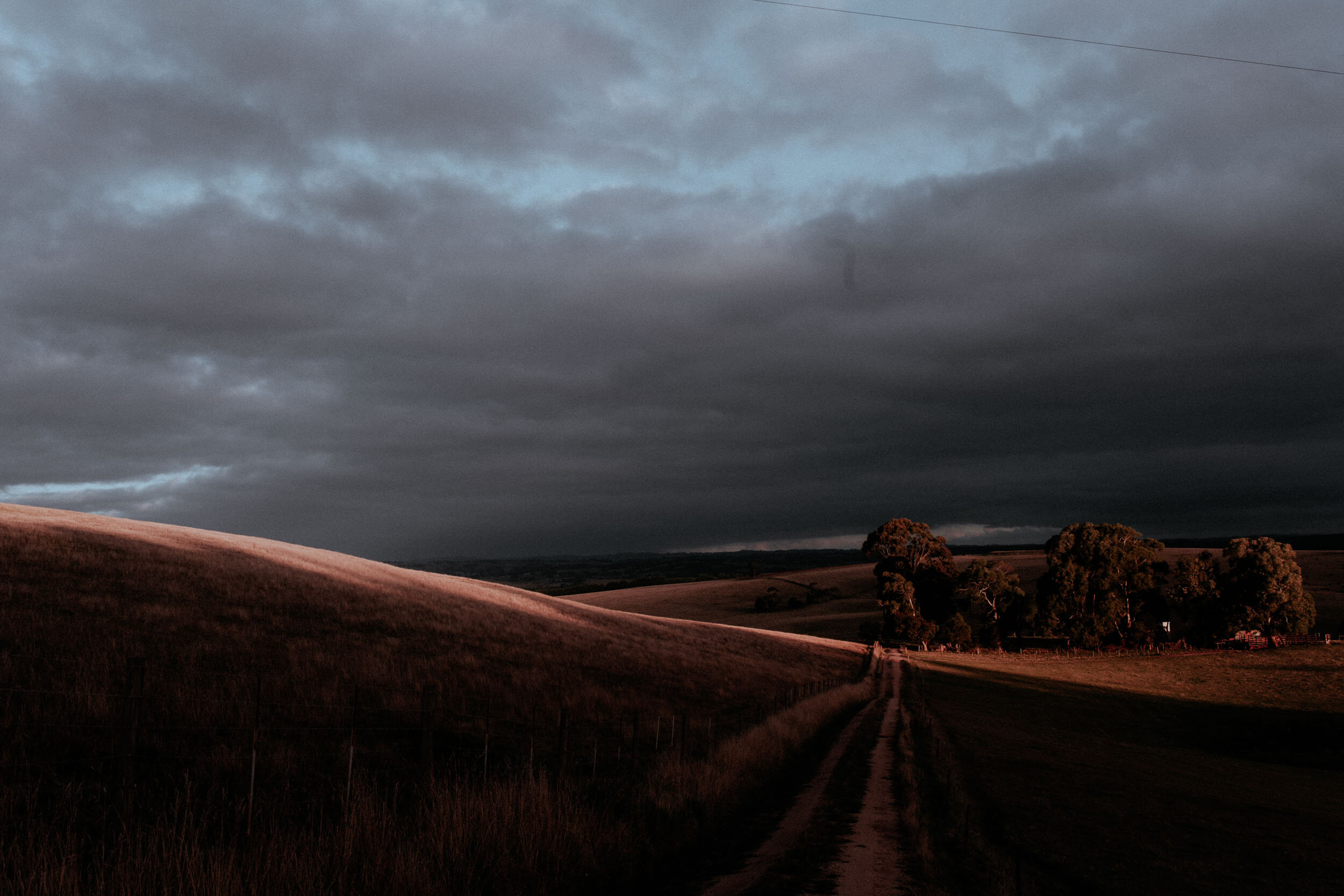 There is so much to see and do in Gippsland, it's a bloody awesome part of this state I call home. The great outdoors, farms, beaches, rivers and waterfalls, lakes and mountains – take your elopement vibe pick and run with it in Gippsland.

Some highlights – Tarra Bulga National Park, 90 Mile Beach, three amazing falls to choose from, some incredible lakes, Mt Baw Baw, Walhalla and Wilson's Promontory, which is so epic I'm giving it its own write up below. Interest sparked? Find out everything you need to know from the people in the know, Visit Gippsland.
6. Wilsons Promontory Elopement
This southernmost tip of mainland Australia is frickin' amazing. Secluded unspoilt beaches, rugged bushland, mountains and panoramic views. It is also home to one of my fav spots, The Big Drift.
The Big Drift is an epic space of massive sand dunes that feel like they will seriously never end. It's peaceful, it's unique AF and it's right here in Victoria. You will seriously feel like you are the only two people in the world. Elope here at sunrise or sunset when the sand turns a rose gold colour. It puts the wow in wow factor.
7. Redwood Forest Elopement
The cat's outta the bag, there's a forest home to over a thousand towering Californian Redwoods right here in Victoria. Redwood Forest is bloody awesome and is the perfect setting to say your vows or have some sweet photos amongst the endless rows of trees.
The Redwood Forest is located in Warburton which is only a 90 minute drive from Melbourne. It's close to the Yarra Valley so there are a tonne of accommodation and dining options. The area does get quite dark early because of the tall trees, so if you are thinking of this as your wedding or elopement location it would be best to start around 2pm to maximise daylight.
Redwood Forest is mother nature at her best, pure magic.
Where to stay
If luxury is your vibe, this is your place! Located on a beautiful property and only a 30 minute drive from the Redwood Forest, Meletos will seriously knock your socks off!
Located in Gladysdale, this tiny home feels entirely off the grid! Seclusion and serenity await.
Things to do in the area
Start the day after your elopement with some hiking at La La Falls. Grab lunch afterwards at the Innocent Bystander. Finish off the afternoon with some gin tasting at Four Pillars. Not a bad way to spend your first day married!
8. Cactus Country Elopement
Amigo, this place is dynamite! It's a slice of Mexico in our very own backyard. A twelve-acre garden with the largest collection of cacti in the country, and it's all set up and ready to go for your elopement fiesta.

Cactus Country has an incredible back story, a truly astonishing landscape and is a freakin' amazing art backdrop for your big day. Say hola to wedlock, nachos and margaritas, you won't regret it.
9. Kinglake Elopement
Kinglake is another beautiful forest setting perfect for an intimate elopement. It's a little boho with a whole lotta magic. I cannot recommend Forest Weddings enough, it's a top spot for a chilled elopement. It's natural beauty is pure romance. You will be feelin' all the love here.
10. Mount Hotham Elopement
When you think of Mount Hotham, your first thought is probably snowboarders shredding and skiers flying down freshly dumped snowy mountains. But come summer and autumn, Mount Hotham is transformed into an epic elopement setting with high country vibes.

Think rugged mountain landscapes, stunning scenery, panoramic views. And it comes complete with your choice of luxury accommodation and some wicked holiday properties. I'm loving Hounds and Howqua Hills, La Casa Cortes and Cortes Kiln.

And if you are dreaming of a white wedding (sorry not sorry about the shit pun), Mount Hotham and its surrounds are a no brainer choice for your elopement.

11. Mount Buller Elopement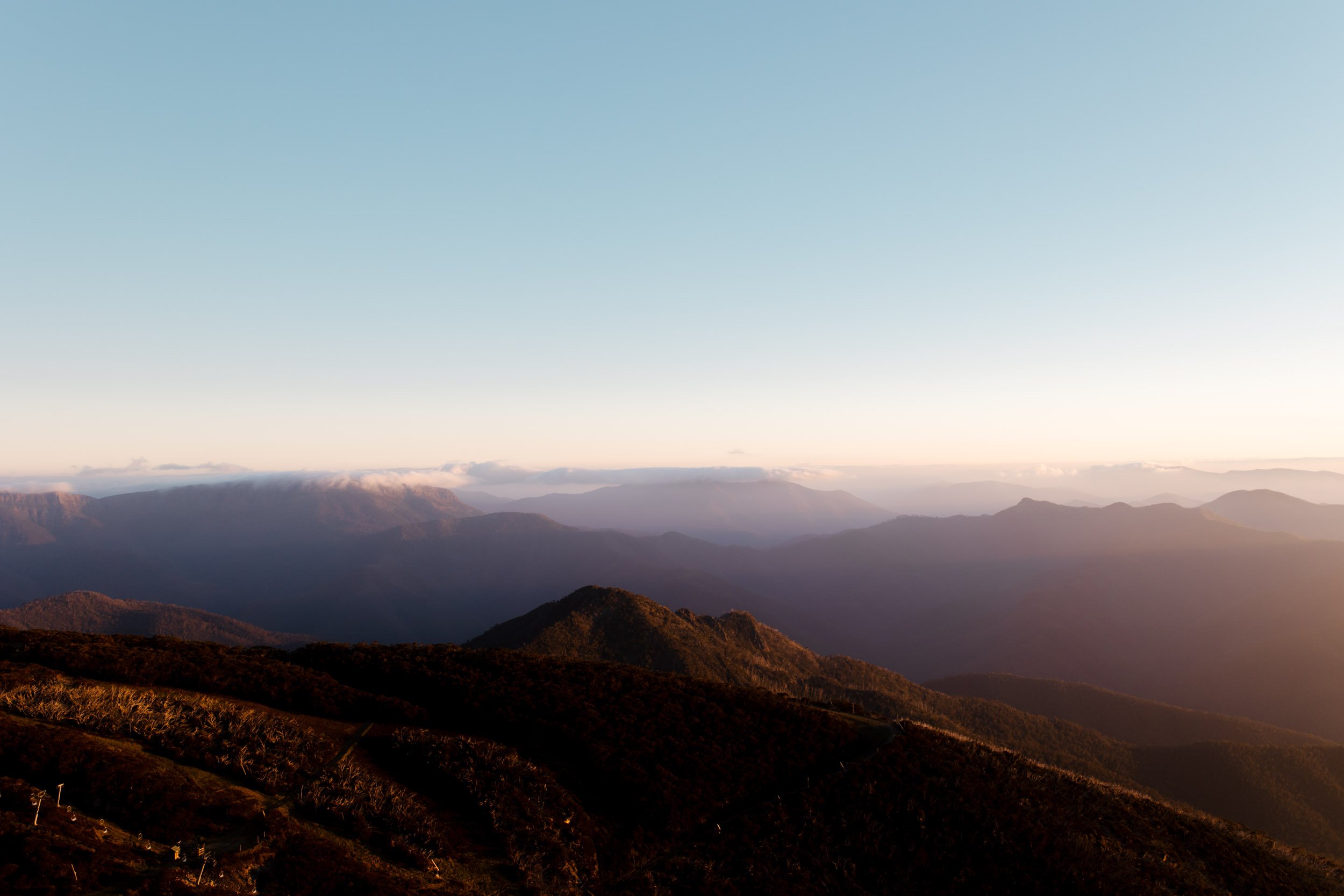 Mount Buller beams with purple, gold and nearly all the colours at sunset. Travel to the summit from the main town, and walk for 10-15 minutes for bloody breathtaking views across to the Bluff. In summer you want to be here from 7pm to really experience its glory.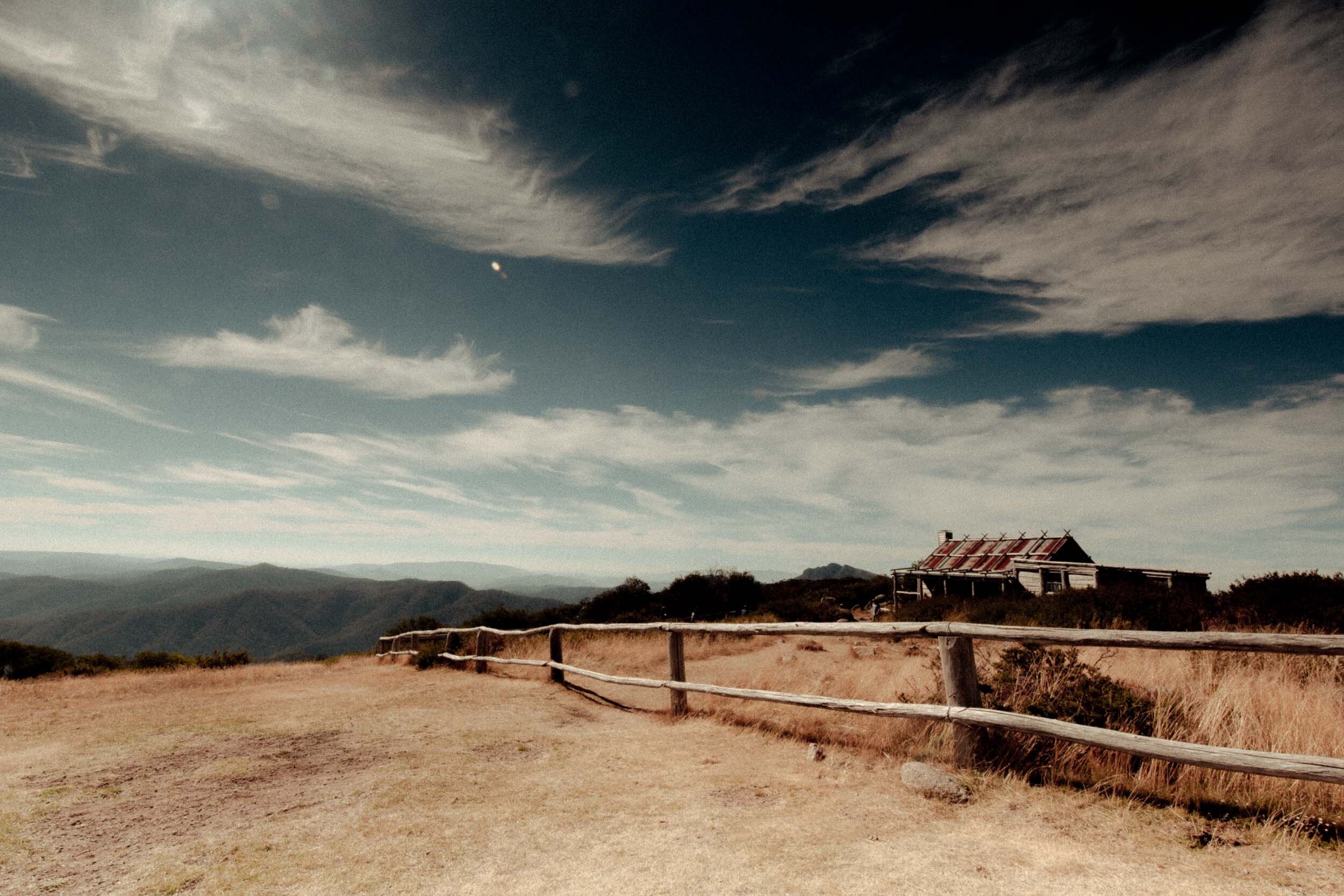 I bloody love Craig's Hut. It's a famous High Country hut perched atop Mount Stirling and it was originally built for the film, The Man from Snowy River. It's one of Victoria's most photographed landmarks and it is damn easy to see why.

Eloping here is all about the unique experience, quiet beauty and jaw-dropping views of the Great Dividing Ranges. Choose your adventure to get to Craig's Hut – drive, on horseback, mountain bike, fly in or hike. The perfect day for two adventurous lovers.
Where to stay:
Mansfield is an ideal location to stay. A small town in the foothills of the Victorian Alps, Mansfield has retained the old charm of a country town but with some modern touches like my favourite cafe, the Mansfield Coffee Merchant.
Keen for a quiet escape out of town? Check out this light filed cabin in Piries, a 10-15 drive from Mansfield.
12. Yarra Valley Elopement
Could this be Victoria's wine and food mecca? I think so. The Yarra Valley is Victoria's oldest wine region and is a crackin' place to elope. It's full of vineyards both boutique and large, historic houses, farm properties and some incredible small wedding venues.

Some of my fav more traditional venues that would still work well for an elopement are Riverstone Estate, Stones of the Yarra Valley, Flowerdale Estate, Zonzo, and Yering Station. But really, the options for these type of venues are endless here. Once you start putting out your Yarra Valley feelers, you won't be disappointed.

Want something more unique while still enjoying the Yarra Valley vibe? Hire a sweet property in the region, have your elopement there and then spend your first few loved up days winery hopping. I love Yarra Valley's Settlers Cottage and Casa Warrandyte Bush Retreat (a little bit out of the region but this house more than makes up for the extra travel time!).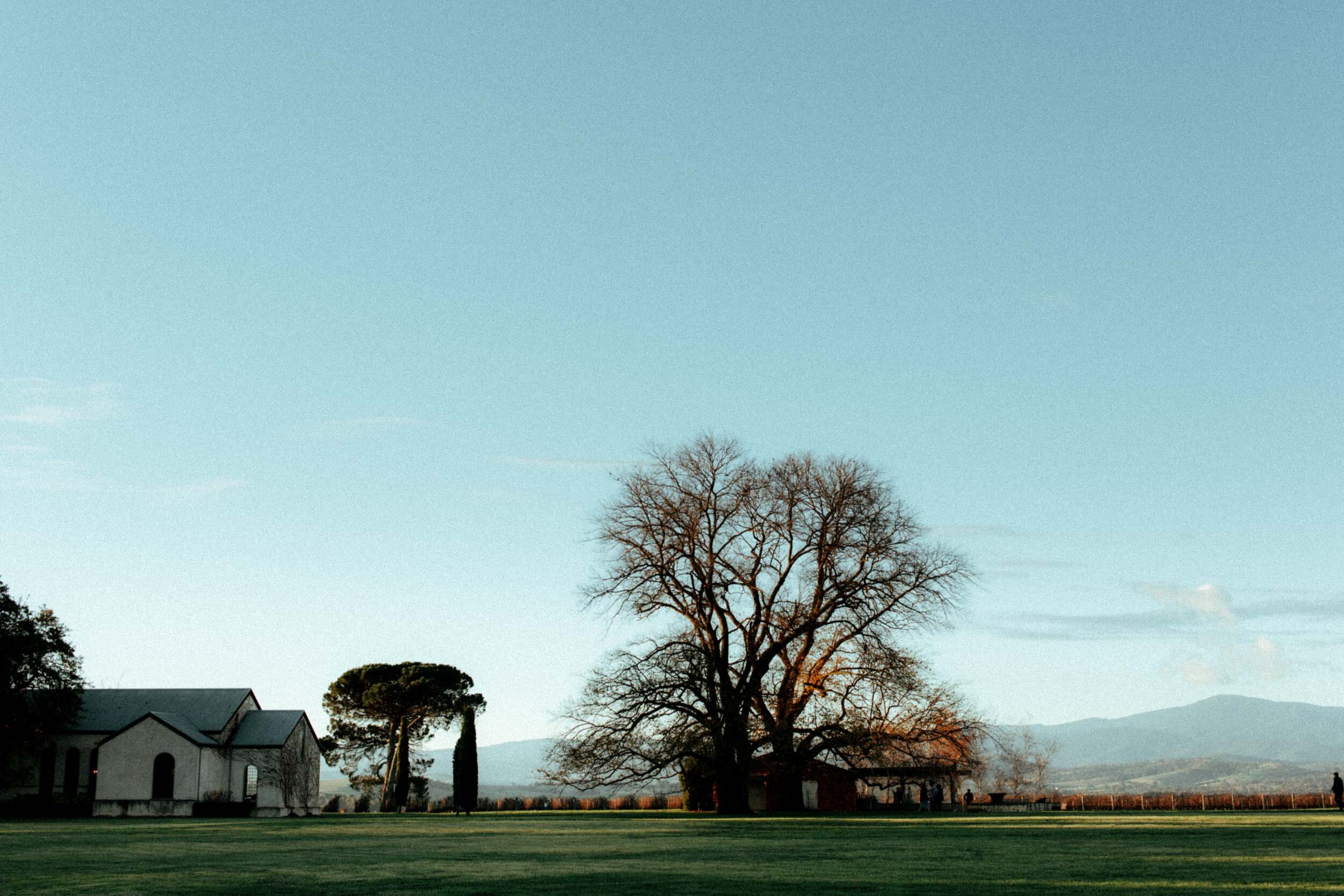 13. Great Ocean Road Elopement
One of Australia's most iconic and dramatic landscapes is right here in Victoria. Fuck we are lucky to live here! 242 kilometres of rugged nature and coastal beauty. And it is filled with so many incredible spots for an intimate elopement.

The Twelve Apostles is truly epic. But avoid the main tourist spots which all have fenced lookouts that are a photographer's worst nightmare! Have your union down on the sand at Loch Ard Gorge or Gibson Steps, with the apostles doing all the backdrop work for you.
There are also some incredible properties worth looking at down this way. I remain in awe of The Pole House in Fairhaven, it's seriously epic. And Riparide has a tonne of unique properties that would be perfect for an intimate elopement.

Other top locations to note along the Great Ocean Road are Great Otway National Park, Erskine Falls, Blanket Bay and Childers Cove. Whatever your vibe, whatever your passion. The art of you will shine here.